9
Liu Yaoping, general manager of Refrigerator & Washing Machine Department of Xiaomi Group, and his delegation visited DEREN Electronics
On December 6, Liu Yaoping, General Manager of Refrigerator & Washing Machine Department of Xiaomi Group, and a group of seven people visited DEREN Electronics Shenzhen Guangming Industrial Park to learn more about the development of DEREN Electronics, conduct business exchanges and discussions, and further deepen cooperation between the two sides. Chairman Qiu Jianmin, President Qiu Yang, President Assistant Liu Qiaoming of DEREN Electronics and other company leaders accompanied the reception.
General Manager Liu Yaoping and his delegation visited the exhibition hall of DEREN Electronics, listened to the introduction of the development process, main products and industrial layout of DEREN Electronics, and highly appraised the leading role played by DEREN Electronics in the development of the industry.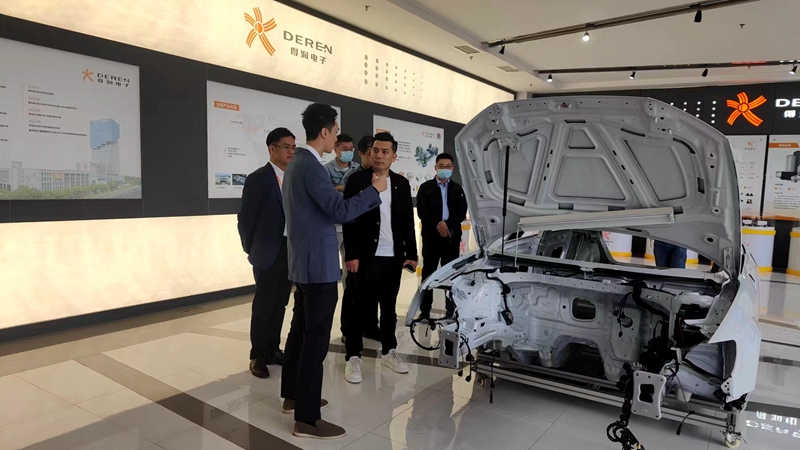 General Manager Liu of Xiaomi Group and his delegation visited the exhibition hall
At the symposium, Chairman Qiu Jianmin warmly welcomed the visit of the leaders of Xiaomi Group, reviewed the development process of the company from household appliances to automobile business, emphasized the four business concepts of quality, cost, service and technology, expressed his expectations for the in-depth cooperation between the two sides, and put forward many innovative ideas for the future form and industrialization of refrigerators and other products.
General Manager Liu Yaoping introduced in detail the development of Xiaomi Group and the Refrigerator &Washing Machine business, expressed confidence in the cooperation with DEREN Electronics, and hoped that Xiaomi Group could become a heavyweight customer of DEREN Electronics.
President Qiu Yang highly agreed with the AIOT layout of Xiaomi Group, and conducted in-depth communication on the Refrigerator &Washing cooperation business of Xiaomi Group, emphasizing that the company's technology accumulation and first-mover advantages in new energy vehicles can play an important synergistic role in the car manufacturing business of Xiaomi Group.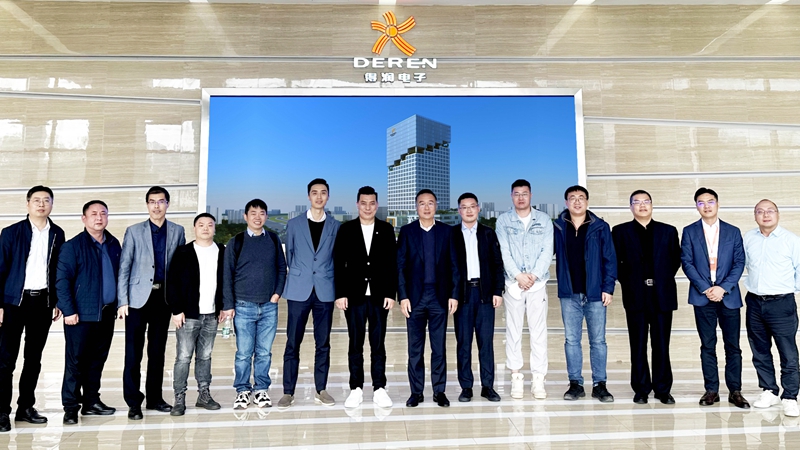 Group photo
About Xiaomi Group:
Xiaomi Group, formally established in April 2010, is a consumer electronics and intelligent manufacturing company with smart phones, smart hardware and IoT platform as its core. Xiaomi's total revenue in 2021 is 328.3 billion yuan, ranking 226th in Fortune Global 500 in 2022, and the Mi Home has more than 15,000 + stores worldwide, with business and services all over the world.
DEREN Electronics:
Shenzhen DEREN Electronics Co., Ltd., established in 1989 and listed on Shenzhen Stock Exchange in 2006 (stock code: 002055), is a leading enterprise in the field of connectors in China and a leader in the global clean energy industry. The company is mainly engaged in the research, development, manufacture and sales of on-board chargers, electronic connectors and precision components of new energy vehicles. Its products are widely used in many fields such as new energy vehicles, automotive electronics, smart home appliances, consumer electronics, LED lighting and industrial control.
At present, the company has 23 branches, 18 production bases, 3 R&D centers, 1 national engineering laboratory and ORT laboratory recognized by customers in the world, and has passed authoritative certifications such as ISO17025, IATF16949 and A-SPICE. Its long-term services include BMW, Volkswagen, Apple and other global 200 + customers.
In the future, DEREN Electronics will transform our genes through cooperation with IoT leading enterprises such as Xiaomi, actively embrace the new thinking of the Internet, focus on improving product quality, be determined to innovate, unremittingly march forward on the road to a powerful country in science and technology, become an industry leader in the subdivision of on-board chargers in the field of new energy vehicles, and strive to promote the healthy and rapid development of the national new energy industry.